I've always loved stocking stuffers and while they're meant to be small tokens of fun, it's fun to come up with ideas of tons of things that will fit in the stocking. Of course, in recent years our stockings have been so heavy from goodies that no hanger is going to keep them on the mantle. I'm here to share some of the wonderful stocking stuffer ideas that I've come up with in the past and ones that I will use in the future. Stocking Stuffers Rock!
If you're at a loss of what to give to a friend, teacher, or acquaintance; just pick out a stocking that you love and fill it with goodies that the recipient will love. Keeping a few of these items on hand year round makes it easy to make a small gift basket(using baskets found at Michaels, the Dollar Tree, or yard sales) or stocking. It makes and easy gift and it's a great way to save!
* $5 Gift Cards to places like Panera, Starbucks, Amazon, Barnes and Noble, Chipotle. I tend to choose places where $5 will actually buy a treat without having the recipient spend extra money unless they want to.
source
* Candy-I always buy a couple of bags of Christmas candy that's individually wrapped in red, green, silver, and gold so I can use the candy to fill up any remaining area of the stocking that's not full. A full size version of their favorite candy is also a great option.
source
* Piece of fruit-My parents always preferred a clementine which you can get in crates at Christmas, but they're great to stick one in the toe to keep it full and round.
source
* Cupcake liners-These are great if you have someone who loves to bake and share their goodies. There are really cute designs for cupcakes as well as mini ones. I've found some great ones in Michaels, Hobby Lobby, and Target.
source
* Magazine-Magazines are great to roll up and keep the shape of the stocking while still allowing you to stuff the inside with lots of goodies. With so many magazines available, it's easy to choose one that fits the recipients tastes whether they love cooking, running, fashion, or cars.
source
* Chapstick-Getting things that people can actually use is always a great bet for stockings. Chapstick is a great winter necessity and since I can't go more than a week without losing it, I'm constantly opening another one.
source
* Herb or Flower Packets-They have these near the garden center in Lowes and Home Depot. These are a great little treat that allows the recipient to plant something in the spring.
source
* Body Wash-Bath products are a great option for stockings because many of them come in mini sizes. Axe body wash for guys is in a thin enough bottle that the full size product would be a great addition to a stocking. For women, there are a number of options available as well and Bath and Body Works often has coupons making them a free item.
source
* Mini Lotion-Everyone gets dry hands once in a while and a mini bottle of lotion is great to keep in your car. There are minis available at Target, Walmart, Bath and Body Works, grocery stores, and drugstores making it easy to pick up on another shopping trip and keep on hand for stockings.
source
* Champagne split-A small bottle of champagne is a great surprise addition to the stocking. Christmas is all about celebrating so adding a small bottle is a great option. There are several different kinds available in the wine section of your grocery store, Target, or Walmart.
source
* Scented candles-Candles are a great option and there are many different companies and scents to choose from. You could also find a handmade one with a cool scent like
bacon
or get a Yankee Candle one that are available major grocery stores and chains.
source
* Golf balls/golf tees-If you have a golf lover in your life, golf accessories are a great addition to the stocking. They have divot tools with everything from your favorite Nascar driver's number to your favorite sports team's logo so there's one for everyone. Golf balls and tees can also be personalized with the recipients school(you can find these in most college stores) or just get a 3 pack of their favorite brand.
source
* Matchbox cars-Whether the recipient loves cars and you find a model of their favorite car or it's for a child, matchbox cars are always a great addition. They're inexpensive and fun!
source
* Gourmet oils-If you know someone who loves to cook, getting a bottle of gourmet oil is a great idea. They come in a variety of flavors such as infused with peppers or lemon and are great for cooking or even for dipping bread in before a meal. They can be found in gourmet food stores, grocery stores, TJMaxx, and Marshalls.
source
* Manicure set-These are easy to pick up in drug stores and dollar stores and work for a variety of recipients. It's a great item that nearly every adult will need at some point and adding it to your gift basket means that they will have it on hand when they need an emory board.
source
* Pumice Stone-A pumice stone is a great addition to a basket if you want to do a nail care or spa theme and all all kinds of goodies for the bathroom. They're inexpensive and can be found at drug stores, Target, Walmart, and grocery stores. It's a great useful item to add.
source
*Cufflinks-If you have a guy that gets dressed up a lot, cuff links are a great addition to the basket. They come in every design and color you can imagine and you can get everything from a sports team to an airplane. They're available anywhere men's clothes are sold, but great deals can be had at TJMaxx, Marshalls, and Burlington Coat Factory.
source
* Pedometer-If your recipient loves walking, a pedometer is a great choice. Pedometers count the steps that you take and it's amazing to see how much progress you can make just during your daily rounds. I prefer the Omron brand and have been using them for years. They have several different price points, but they're under $20 and are a great addition to inspire exercise.
source
* Cologne/Perfume- There are mini samples of many different kinds of cologne and perfume that are great fro stocking stuffers. Sometimes they give away great samples at the department store counters, or you can find some free by mail. Even if you want to splurge and get a full size bottle, cologne and perfume make a great stocking stuffer.
source
* Hot Chocolate Mix-Everyone loves hot chocolate and it's something that you can find everywhere. Whether you go for the gourmet version, the kind with chocolate on spoons, or just the kind that you can get in the grocery store, getting some nice hot chocolate in your stocking is always a pleasure.
source
* Umbrella- Umbrellas seem to disappear around here, so it's always a nice gift to get someone something they can keep in their car and use. Whether you get a plain black one or find one that has a great pattern on it is up to you, but it's a great stocking stuffer idea. They have them everywhere from Walmart to the Metropolitan Museum of Art gift shop. I love this peacock feather one!
source
* Spices-Spices are a great stocking stuffer for anyone that loves cooking or baking. Whether it's a great quality vanilla bean or a curry with cool packaging, spices are a great item that is small and can be used over and over again, a great quality for stocking stuffers.
source
*Nail Polish-This is another great item for a stocking stuffer. It's small, appreciated, and will last a long time. It's a great option for girls of any age. There are colors and brands to match every budget and age group, making it a great gift for both the giver and the recipient. I'm loving Duke Blue nail polish this season. Go Blue Devils!
* Eyeshadow-This is a great gift idea for women of any age. Many people love trying new colors, but don't want to spend the extra expense on buying it themselves, making it a great gift idea. If it's a color that you know that they love and use, it's also a great gift as you know it won't go unused. If the stocking is for a young girl, try this. Fill the empty eyeshadow compact with colored nail polish and let it dry. Young girls can pretend with what really looks like eyeshadow and not make a mess!
source
* Jewelry- Jewelry is always a great gift, whether it's a ring, earrings, or necklace; the recipient is sure to think of you anytime they wear it. Many girls love to match their accessories to their clothing so take note of what colors they wear often or just buy something silver or gold that will go with anything. Jewelry is available in every price range, so you're sure to find something that you can afford and they will love.
source
* Belt-Everyone can use a belt, so it's a great gift idea for a stocking. Whether you find a basic one that you know the recipient will use every day or whether you find one with a great belt buckle that you know that they will like, there are belts available at all price points making it a great gift for everyone on your list.
source
* Sugar Scrub-S
omething for the bath is always a safe bet for women and teen girls. There are many different scents to choose from, and it's always a well-received gift. These can be found just about anywhere from Target and the grocery store, to TJMaxx, department stores, Bath and Body Works and Sephora.
source
* Play Dough-
Play dough can be great for kids of any ages, but any child is sure to love playing around with it. It's available in small stocking-stuffer sized containers and is less than $1, making it a great option for a gift. Pick up a few colors and see what they make with it!
source
* Coal gum-
These are a great prank gift and can be found with the holiday candy. It's a great stocking stuffer addition and the joke of getting coal for Christmas is worth the $1 you'll spend.
source
* Crayons-
Crayons are a great gift for kids of any age. They're great to have on hand for when kids visit, so giving them in a stocking is great for everyone. I generally pick up a few boxes when all of the school supplies are on sale and they're only a penny or 10 cents, but even at full price, they're a great stocking stuffer gift.
source
* Crossword or Sudoku book-There are crossword puzzles or Sudoku books for every level from kids levels to advanced crosswords. They're a great, cheap gift and can amuse the recipient for hours!
source
* Mini box of cereal-Mini boxes of cereal are a great way for a child (or a child of any age) to enjoy their favorite cereal.
source
* Nuts-Nuts are a great, nutritious option for everyone on your list. Whether you get gourmet praline pecans or plain roasted almond, nuts are always a great treat that's appreciated and enjoyed.
source
* Pet Treats-You can't leave out your pets when it comes to stuffing the stockings. There are a number of ways to spoil your pet including cans of treats, bones for dogs, or small stuffed animals for them to play with. Pet stores, Target, and the like carry a great selection!
source
* Mini First Aid Kid-These are a great item that is great to have on hand in a bookbag or in a purse and can make a great gift for someone of all ages. They can be found already put together at Target or Walmart or make your own buying picking up items as they go on sale at the grocery store.
source
*Cool Bandaids-Bandaids now come in all kinds of awesome patterns and colors. From Houndstooth to Spongebob, there is something for everyone.
source
* Sewing Kit-A sewing kit is another item that is great to have around, but you never think to buy one yourself. If you travel frequently, you might be able to score one of these for free, but they make a great gift for those sewing emergencies.
source
* Coupon Book DIY-This is a great idea for a recipient of any age. It can range from anything from a coupon for a free ice cream to a piece of jewelry depending on the age of the recipient and your budget. It's a great way to spend time with those that you enjoy and keep the gift-giving going all year long.
* Soaps-Soaps are a great gift idea for any woman. Whether you get a great liquid soap or a bar soap, they will be appreciated. You can find beautifully wrapped ones as Pier One, Home Goods, TJMaxx and the like that are all ready to drop in the stocking.
source
* Wine Charms-Wine charms come with all kinds of themes with everything from tennis to shopping so you're sure to find something that the recipient will love.
source
* Cocktail Napkins- Cocktail napkins are available to match every decor and make a great gift. They can be found nearly anywhere and are a great gift to add to a stocking.
source
* Drink Umbrellas
* Hot Sauce-There are a number of gourmet hot sauces so you're bound to find one that has some kind of personal significance to you like a school you went to, something you like (like bacon!) or one with habanero peppers for the hot sauce lover in your life.
source
* MP3 Player-If you really want to surprise someone with a great stocking stuffer, and Ipod or MP3 player is a great option. They will be so surprised and Ipods come in a number of different colors that you can tailor to each recipient.
source
* Camera-Another great electronics gift is a camera. Everyone loves being able to capture the special times in their lives and a camera is a great stocking stuffer that allows you to do just that!
source
* Truffles- Chocolate is a great stocking stuffer for everyone on your list. Whether they like light,dark, or white chocolate there is something for everyone. I love checking out new chocolates and testing new bars like the Lindt Chili chocolate bar. Plus, everyone loves a little bite of chocolate on Christmas morning.
source
* Extracts-Vanilla, Orange, etc-While these can be on the expensive side, they make a great stocking stuffer for any baker in your life. I find some of the gourmet extracts inexpensively at Home Goods or TJ Maxx and they are of great quality. Good vanilla really makes any dessert!
source
* Mini liquor bottles-If the recipient is old enough and enjoys a drink every now and then, the mini liquor bottles are a great addition to the stocking. They're one drink's worth making it a great gift!
source
* Demeter Scents-Demeter makes scents with all kinds of crazy names like Gin and Tonic and Grass and they smell surprisingly like their names. I love the Cucumber scent and it makes a great stocking stuffer!
source
* Memory Stick-Novelty memory sticks are all the rage and they're a great way to show off your personality while also giving a gift that will actually be used. One of my favorites is this Star Wars one, but they have one with nearly anything on it.
source
* Socks-While socks have gotten a bed reputation as a gift, everyone needs them and they make a great stocking stuffer. There are many different types including all kinds of cool socks that can double as slippers. You're sure to find one that the recipient will enjoy.
source
* Bookmark-These make a great stocking stuffer gift because they're small, inexpensive, and can be tailored to the recipient. Whether you make it yourself or find a cool one at Barnes and Noble, the reader in your life will think of you each time they use the bookmark.
source
* Bottle Opener-Bottle openers are one of those things that seem to disappear and they make a great stocking stuffer since you can get them with everything from your favorite team to your favorite color on them.
source
* Restaurant.com gift certificate-These are a great way to get a gift certificate to a great restaurant at a great price and it's if you catch them when they're having a sale (and they're always having a sale), you can try out a number of new restaurants for a great price!
source
* Coasters from Burlap and Blue-Coasters are a fun stocking stuffer and there is something for everyone. I love the ones at
Burlap and Blue
on Etsy.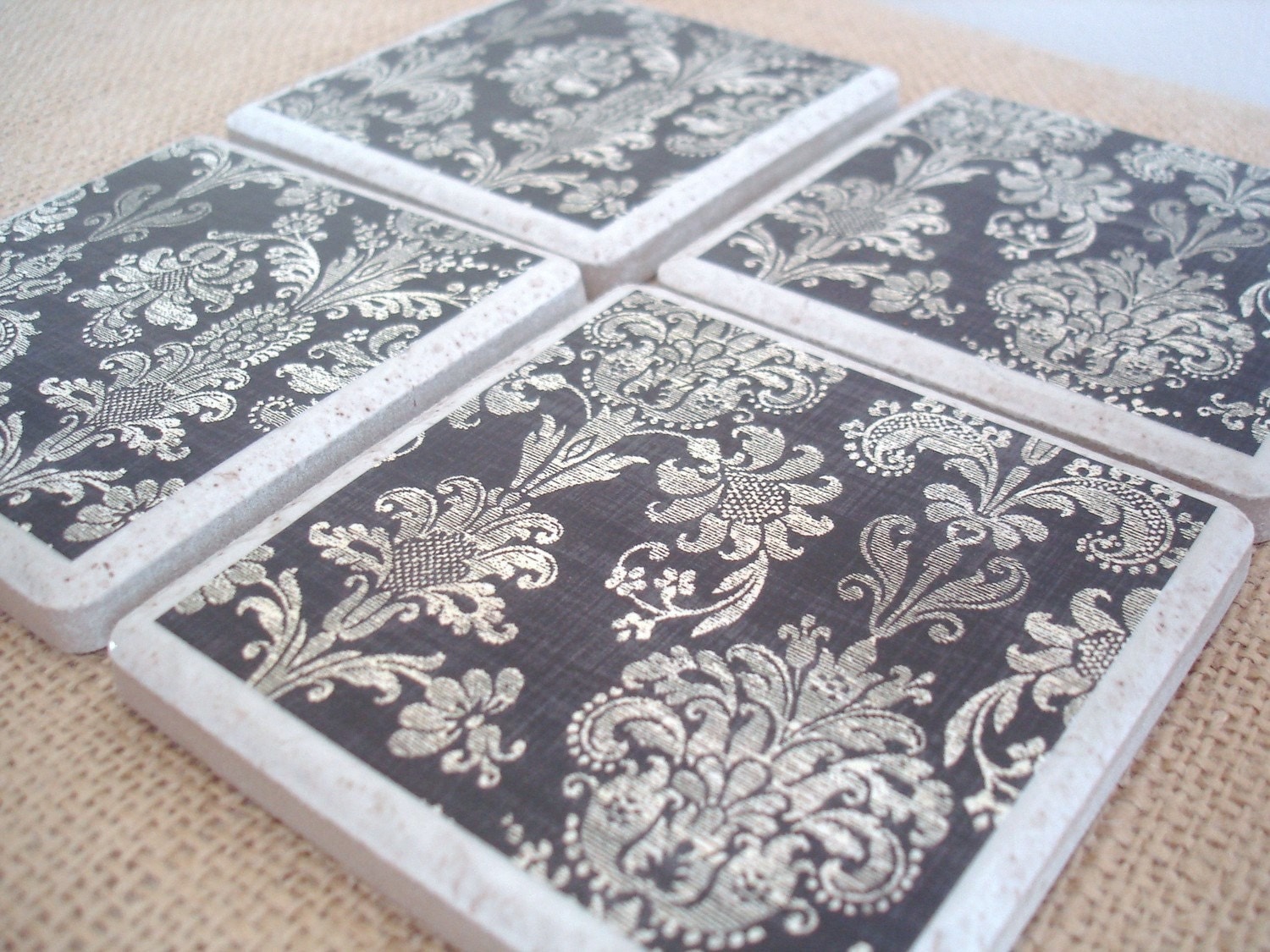 source
* Fold Up Ballet Flats-These are an awesome stocking stuffer for any woman in your life. Invariably, they will get stuck somewhere with uncomfortable high heels and these fold up ballet flats are a saving grace. They fit in a purse or in a glove compartment and make a great gift.
source
* Christmas Ornament- Christmas ornaments are always a great gift idea. It can be something line the Swarovski ornaments where they make a different crystal star for each year or it can be as simple as buying a clear ornament and making something heartfelt. Either way, it makes a great, personalized stocking stuffer.
source
* Ipod/Touchscreen Gloves-One of the problems with the touchscreen electronics is that you have to take your gloves off for the touchscreen to work. They've solved this problem with gloves that have special material on the index fingers that allow your touchscreen to work while keeping your hands warm. Definitely a first-world problem, but I'm thrilled they exist.
source
What are some of your favorite stocking stuffers?